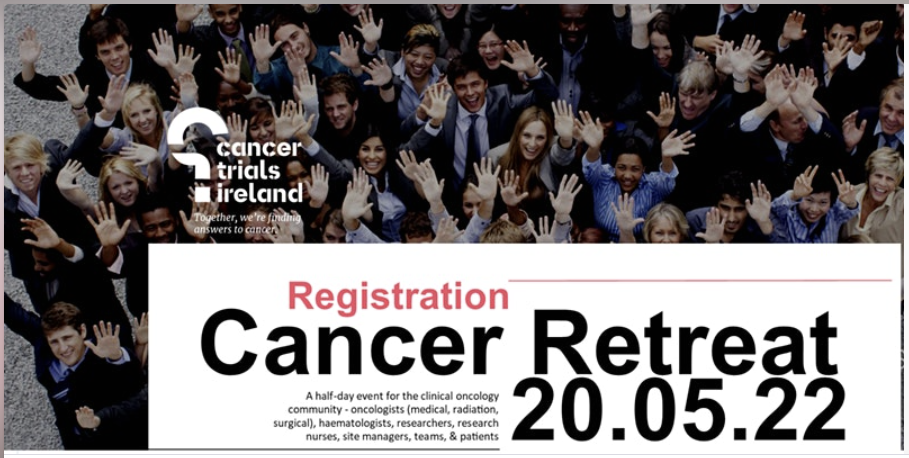 The Cancer Retreat 2022 is a half-day hybrid event for members of Cancer Trials Ireland (session 1 & session 2) and stakeholders in clinical oncology research in Ireland and abroad (session 2 only).
As a hybrid event, invitees are welcome to attend in person, or virtually. While our preference is to see you in person, geography and clinical commitments make that difficult, and so links to live streaming of the event (via MS Teams). The top-line agenda is listed below, this will be updated in the coming weeks as speakers and contributors are confirmed.
Session 1
Part 1: Introduction & Key speakers (9 – 9.30am)
Keynote speaker: Senior National Cancer Institute representative (TBC)
Developments since Retreat 2021 (Prof Seamus O'Reilly)
Cancer Trials Ireland 2022-2027 (CEO, Eibhlin Mulroe)
Part 2: Accruals – facilitated by Prof Ray McDermott (9.30 – 11am)
A 90-min session discussing the key challenges, issues and opportunities relating to recruiting patients onto trials. This discussion is being informed by quantitative and qualitative research being undertaken with key members groups (investigators & site teams) in April, with DSSG Chairpersons, investigators & site team leaders presenting / discussing the results of this research at the Retreat on May 20th.
Break for Tea & Coffee
Session 2
Part 1: The Molecular Tumour Board (11.20am)
As was recently announced, Cancer Trials Ireland & Roche Ireland announced a new partnership to deliver the first nationally accessible educational Molecular Tumour Board (MTB) in Ireland, following a successful pilot programme. The MTB is aimed at improving patients' lives by identifying the most appropriate treatment options for oncology patients, including innovative new cancer trials both here in Ireland and internationally. Speakers TBC.
Part 2: Public & Patient Involvement (12pm)
Eibhlin Mulroe & Prof Seamus O'Reilly will facilitate a discussion with members of Cancer Trials Ireland's Patient Consultants Committee to demonstrate how this group, and other patients will help oncology researchers improve recruitment and meet HRB grant requirements.
Closing words: Prof Seamus O'Reilly (12.45pm)